Custom ISH art!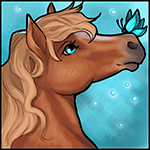 weezapony
Basic
Post Count: 9
RP: 10432
4/12/2020 8:24 pm
I'm stoked about Irish Sport Horses (haha all sport horses and warmbloods in general, really) and the regular "light horse" art isn't best suited to the breed, so I decided to make my own greyscale for a few of my horses. I don't have the energy to color it for each of my ISH's, but I'll continue to use it for my favorites. :) this mare and this mare, for example, plus my 5E1G ISH x AWB cross. Tada!
No references used, bg inspired by the regular Eqc one.

4/12/2020 8:59 pm
Rayyne
Gold
Post Count: 14
RP: 13330
It's beautiful! I personally really like them!
4/13/2020 11:16 am
Scarlett
Basic
Post Count: 6
RP: 1055
They are stunning! I love your style! :D
11/22/2020 6:18 pm
Liv Legends
Basic
Post Count: 147
RP: 4
​WOW

I Summon More Episodes Of The Mandalorian
~Liv Legends 🌺
~Wonders Dream Ranch 🌺🐴🌺
~Breeding Crosses 🥀🌺
~Selling All My Horses 🐎🌺
~Watching Boba Fett Dancing Gif -_-
~Watching Baby Yoda Memes -_-
~Watching The Mandalorian ❤🌺

11/22/2020 6:37 pm
Raine
Platinum
Post Count: 157
RP: 37438
That style is absolutely lovely.
11/22/2020 6:45 pm
Soupy
Basic
Post Count: 55
RP: 196
I love them!
What's the difference between falling and flying if you never hit bottom?
You must login to reply to this topic. Login here. Don't have an account? Join us.