The Foundation Horse Registry - POLL! Should BS standards be relaxed?
Fluffy Horror
Platinum
Post Count: 36
RP: 15505
5/21/2020 9:18 pm
The Foundation Horse Registry is always looking for ways to improve its participation. As owner and founder, I have rejected a lot of Foundation horses because their BS was too low and they hadn't met the level requirements for the exception. However, recently I have been thinking about this.

I recently realized that it's actually more beneficial to have Foundation horses with poor BS if you're trying to make crossbreeds, I'm wondering if this rule:

2. We are NOT accepting Foundation horses with more than two "Poor" BS or three "Fair" BS, or a combination of Fair/Poor in three or more. Exceptions will be made for any Foundation horse at level 30 or higher,
is a good one. I initially made the Club with these rules to encourage people raise only the best of the best Foundies, but when crossbreeding, Excellents and Goods aren't always what you want.
I have a few options for this poll, please respond with one or more numbers, I want to get a feel for what people in this Club most want to see.

1. Keep the entrance limitations as they are
2. Remove the BS restrictions entirely
3. Remove the BS restrictions entirely, but replace them with a minimum level requirement of 10
Both members and non-members are welcome to respond to the poll, I'm interested in any input for the betterment of the Club.
5/22/2020 1:52 am
Kwenda
Basic
Post Count: 33
RP: 23892
5/24/2020 8:33 pm
Rhea
Moderator
Post Count: 72
RP: 127226
Even though I'm not a member, I'd go with option 3.
That way you'd still make sure that the future generation is better, which I think is a good goal for any Club.
5/24/2020 8:39 pm
Eachai
Platinum
Post Count: 15
RP: 49919
personally I lean more towards 3. BS can be corrected and I have found that some poor BS horses can give amazing offspring.
Making Eqcetera Prettier One Tag at a Time.
5/29/2020 10:58 am
Kaye²
Basic
Post Count: 8
RP: 3322
7/31/2020 12:31 pm
Requiem

Bronze
Post Count: 14
RP: 3704
I like #3 also, I've had single E parents give me 4E foals with consideration to strengths and weaknesses. I'm not fond of Poor stats, but you can correct that with good matches.
7/31/2020 2:17 pm

Certavi
Gold
Post Count: 66
RP: 23233
I would also vote 3. That way useful crossbreed parents can still enter and you can still filter out the horses that aren't being used :)
       Join here!
8/24/2020 12:41 pm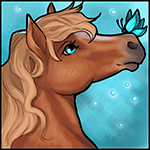 Sugar and Spice
Basic
Post Count: 61
RP: 864
10/25/2020 2:53 pm

Ember :)
Basic
Post Count: 46
RP: 10
I think #3 though I'm not in this.
11/15/2020 1:42 pm
Liv Legends
Basic
Post Count: 147
RP: 4
I go with #3
I Summon More Episodes Of The Mandalorian
~Liv Legends 🌺
~Wonders Dream Ranch 🌺🐴🌺
~Breeding Crosses 🥀🌺
~Selling All My Horses 🐎🌺
~Watching Boba Fett Dancing Gif -_-
~Watching Baby Yoda Memes -_-
~Watching The Mandalorian ❤🌺

You must login to reply to this topic. Login here. Don't have an account? Join us.