[CONTEST] Avatar Contest
Curly
Admin
Post Count: 277
RP: 3874
9/05/2020 9:01 am
Welcome to the Eqcetera Avatar Art Contest!
Entries into the avatar art contest will be posted here. Below are the entry rules and the prize package.
-------

The Prize Package
2 Spectral tokens

1,500 ingots

Choice of any combo of 5: Cherry Background(s), Truffle(s), or Mistletoe(s)

Featured in the winners news post and social media.

Credit on our credits page.
Prize package is valued at $65. All 5 winners will receive the same prize package.
-------
Contest Rules & Info
The contest will officially end Friday, September 25th at 6:00 PM EST/ game time. Winners will be announced on September 26th via news post.

Submissions go in this forum post. There must be a hyperlink to your entry! Hyperlink text should be a title for your piece!

Submissions must pertain to equines, the site, or the community.

You are welcome to submit up to 3 entries.

Signatures on submissions are allowed.

You are able to win only once.

All entries must be 150px x 150 px and in .png format.

All winning entries must be sent to Curly as .png files once winners are announced.

All entries must be 100% your own. No entries with anyone else's lines, color, or work is allowed. By entering the contest you are agreeing that all of the art is 100% your own. All art rules apply to the contest.

By winning the contest you are giving Eqcetera full rights to use your art on the website, social media, and in any promotions. Credit to winners will be kept on our credits page.

Winning submissions may not be sold in-game or on any other site nor used as-is off-site.

Those who do not win are allowed to sell their entries.
Edited 2 times
9/15/2020 9:52 pm
Middie

Bronze
Post Count: 4
RP: 6075
9/18/2020 2:12 am
Sojourn

Bronze
Post Count: 18
RP: 11289
Here are my entries, please let me know if I need to fix the links or make any fixes!
Also, does anyone know how to resize an image to where it won't look so pixelated?
​Flaxen Chestnut​​​
Edited 1 times
9/18/2020 11:56 am
malamuteloves
Gold
Post Count: 4
RP: 4117
9/18/2020 12:30 pm
WildBrumby

Bronze
Post Count: 96
RP: 63157
​Pony Entry​​​
Let me know if the link doesn't work. It was playing up a bit.

9/20/2020 8:51 am

Certavi
Gold
Post Count: 77
RP: 23233
Entry 1 - Pony cross
Entry 2 - Young Arabian
Entry 3 - Moody mare
Very different style based off photos of my own :)
Edited 2 times
       Join here!
9/20/2020 4:02 pm
Vonam
Basic
Post Count: 4
RP: 1972
​Sveldala Mascot​​​
​Bacardi​​​
Edited 3 times
9/20/2020 8:52 pm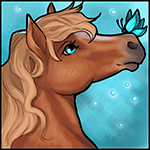 BurningEmbers
Basic
Post Count: 117
RP: 777
You must login to reply to this topic. Login here. Don't have an account? Join us.