Happy Thanksgiving!
Curly
Admin
Post Count: 310
RP: 3874
11/26/2020 10:03 am
Hello everyone and Happy Thanksgiving!
Many of us from the US are preparing for Thanksgiving today and it probably looks a bit different than our usual holiday. This year has been one that we will not be forgetting anytime soon. With the holiday today, the Eqc team wanted to send out a nice surprise for all in hopes it would bring a bit of enjoyment to all. A Turkey companion has been placed in everyone's inventory who has been active in the last 7 days as a small thank you from us. Note: If you would like more turkeys, they will be available for 50 ingots until 11/30.
We are thankful for everything we have accomplished with Eqcetera in the past year; it has been a group effort that largely includes you all, the players. We value and are thankful for our strong player base because it's what keeps us motivated and what makes us most proud of Eqc.
Today, both Bed and I will be gathering with those who live with us and enjoying a modified smaller Thanksgiving. Well...a 23.5lb turkey for two may not be "smaller". We are sending our best thoughts and wishes to those who are finding themselves in tough and emotional times and to those celebrating with those closest to them.
We want to encourage you all to post below what you are most thankful for this holiday season and you may even see an extra turkey fly your way! Gobble gobble!
Hope everyone enjoys their day!
Cheers,
The Dev Team
11/26/2020 10:15 am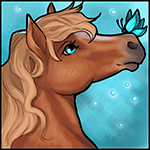 Sky Cat
Gold
Post Count: 20
RP: 16695
I'm thankful that I've been able to keep my job during the pandemic, that my friends and family have remained safe and well, and my steadily improving health. Happy Thanksgiving, all!
"Look back on our struggle for freedom; trace our present day's strength to its source. And you'll find that man's pathway to glory is strewn with the bones of a horse." -Author Unknown
11/26/2020 10:23 am
Misty Morn

Bronze
Post Count: 22
RP: 17646
Happy Thanksgiving!
Thank you for the turkey, it's adorable.
I'm mainly thankful me and mine are staying healthy so far.
We have each other and a roof over our heads and enough to eat unlike so many right now.
11/26/2020 11:17 am
Liv Legends
Basic
Post Count: 147
RP: 4
Happy Thanksgiving Y'all!! I'm thankful for my family and my furry family! (My two horses, Charlie and Toby, my three dogs, Willy, Ike, And Mellie, My Duck and Chickens, My cats, Nimble, Tank, Captain, Diane, Bruce, and Opal, and my goat, Luke!)

I Summon More Episodes Of The Mandalorian
~Liv Legends 🌺
~Wonders Dream Ranch 🌺🐴🌺
~Breeding Crosses 🥀🌺
~Selling All My Horses 🐎🌺
~Watching Boba Fett Dancing Gif -_-
~Watching Baby Yoda Memes -_-
~Watching The Mandalorian ❤🌺

11/26/2020 11:24 am
I'm thankful for my family and my dog, Penny. (Even though she's super naughty.)
11/26/2020 5:16 pm
Alyssa245
Basic
Post Count: 14
RP: 10
Aww! Thanks soo much!! I'm thankful for everything you do!!
11/26/2020 5:18 pm
Holli
Platinum
Post Count: 12
RP: 23421
Happy Thanksgiving everyone. I'm so thankful for my family, pets, and good health. I've been truly blessed. Also very thankful for that adorable gobbler, who doesn't love a turkey with their ponies 🙂
You must login to reply to this topic. Login here. Don't have an account? Join us.