Fat Lil' Ponies! [Round Three Closed]
3/29/2021 7:24 pm
It is time! It is time to acquire your very own, customized fat lil' pony. I'll be taking three orders at a time, and opening up orders again when each round is over. One pony per slot, one slot per person per round. (So if you get a pony this round, you can snag another slot the next round).
How to Order
A fat lil pony will run you 200 ingots, because I am hand-painting each one's coat! That's right — I'm not photoshopping these, I'm painting them in Procreate on my iPad.
Each fat lil pony comes with a choice of mane, eyes, and one free extra. You can add one premium extra for an additional 50 ingots. See below for examples!
To order, please submit the following:
Your username
Horse reference or description (include color and any markings — please be descriptive!)
Mane choice
Eyes choice
Extra choice (free, optional)
Premium extra choice (+50 ingots, optional) If you would like a premium extra, please tell me what colors you would like! For the flower crown I am happy to do Pride flag colors (the example above is the bi flag) and for kitties I'm down to do any color.
Slots
StirFry (paid)
Raine (paid)
Tw Tf (paid)
Menu
Manes:
Eyes:
Extras:
Premiums (+50 ingots):
Completed orders:
Edited 22 times
3/29/2021 7:25 pm
ERA
Moderator
Post Count: 42
RP: 91635
Reserving slot one! Will edit later I love these some much!!
ERA
mane 1
Eyes 3
Premium extra #2 with a black cat please c:
I will provide a reference on discord for you!
sending payment once I post this
Edited 1 times
3/29/2021 8:05 pm
Here's yours, Vulpine! Hi-res is here, transparent is here, and here's the 150px for avatars:
Edited 5 times
3/29/2021 9:33 pm
Yours is done ERA! Here's the hi-res, the transparent big boi, and your avatar sized option:
3/29/2021 9:55 pm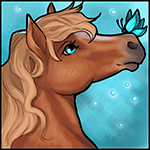 Schrute Farm Hand
Platinum
Post Count: 12
RP: 65249
Reserved for round two as jfibo!
3/29/2021 9:56 pm
Solo
Platinum
Post Count: 22
RP: 1903515
Solo
Mane #1
Eyes #4
Extra choice #1
Premium extra choice #2 - ​kitty reference!​​​
Edited 1 times
3/29/2021 9:56 pm
Here is yours Shokubeni! Hi res, big transparent lad, and your avatar sized:
3/29/2021 9:59 pm
Roze
Moderator
Post Count: 156
RP: 356668
reserving spot! will get ref asap
3/29/2021 10:06 pm
Roze
Moderator
Post Count: 156
RP: 356668
Roze
https://eqcetera.com/horse/986046 - if there's eye color, can you make them blue? If not then, no worries. c:

Mane 1
Eyes 2
Extra choice - kitty - dark seal point Siamese
You must login to reply to this topic. Login here. Don't have an account? Join us.