New Breed, Rare Breeds, and Fixes!
Curly
Admin
Post Count: 386
RP: 3874
7/10/2021 9:16 am
Happy new breed day! On to the exciting part…!!
🐴 New Breed: Akhal-Teke
The Akhal-Teke has trotted into Eqcetera! Known as the most beautiful horse in the world, the Akhal-Teke sports an iconic metallic coat. The breed comes in a variety of colors including roan! Roan Akhal-Tekes are noted in old stud books but are non-existent today. However, roan Akhal- Tekes in Eqcetera will be present in very minimal numbers. Akhal-Tekes are now available via custom token and will go into the general store for gold and platinum members on July 15th and for everyone on July 17th. There is however some extra information about their release below.
The only way to get a roan Akhal-Teke is through breeding to the game-owned brood which will have strict breeding quality requirements. Eligible studs must be at least level 70, have a total PS of 1,000, training boost of 10, and BS star value of 4 or higher.
🦄 Rare Breeds
The Akhal-Teke is a rare breed which means it must be limited in-game. To do so, we are bringing back the limited foundation store availability and adding in new requirements for rare breeds. This means Marwaris will also soon return to the foundation store.
Akhal-Tekes will only be in the foundation store on the 17th of each month and Marwaris the 5th of each month. These breeds will cost $10,000 per purchase. On top of their more costly price point, these breeds will have breeding requirements to keep their numbers down. The dates these breeds are available will be added to the game calendar for future reference.
Rare breeds may only be bred when at level 25 or higher, can only produce 5 offspring (excludes twins), and can only have 3 successful Breeding Clinic retrievals. This is to ensure rare breed numbers are kept as well, rare.
💎 Ingot Sale
A lot has gone on behind the scenes with Bed and I doing many long days of planning and strategizing. To say the least, we have a very large surprise in store which will be coming soon. On August 7th, we will be announcing The Big Thing. In order to prepare for the announcement and The Big Thing, we have been busy funneling most of our revenue toward preparation. This means, we're a bit low on funds and needing a little boost to keep on schedule.
From now until July 11th at 11:59 PM EST/gametime ingots will be on sale for up to 35% off. Purchase of ingots will be going directly to funding several development projects and ensure we get The Big Thing to you in a shorter time-line.
🌈 Grade Horse Colors
We have had quite a few grade horse colors successfully bred for! Our list thus far:
Anadalusians - Varnish Roan by Middy
Arabian - Palomino by Raine
Arabian - Golden Palomino by Raine
Arabian - Leopard by Stir Fry
Arabian - Varnish Roan by Stir Fry
Congrats for successful grade projects! All new image layers for these colors are now in and ready to be seen. :)
🐛 Bug Fixes
There was an issue where transferring money would throw an error. This has been fixed!

Some horses were remembering old deleted clubs and were refusing to load their info tab. They should be fixed now.

If a grade horse has been downgraded to a regular crossbreed image because of missing art, the tack should now match the crossbreed instead of trying to fit the purebred art.

There was an interesting issue where horses that placed the same in the same type of show were receiving a different set of points. This should be fixed now!

Sooty should now show for black-based horses if they have modifiers in the custom generator.

If you try to use a breed coin from your inventory and switch to spectral, it should now appropriately update the color points and the total ingots due.
We hope everyone is staying comfy and enjoys their weekend!
Cheers,
Bed & Curly
7/10/2021 10:11 am
Marble
Platinum
Post Count: 104
RP: 75636
Some deep pondering is occurring about if I should buy 100 custom Tekes or not. Could make it 100+ buying ingots too
7/10/2021 10:11 am
Windspun
Basic
Post Count: 45
RP: 139875
Omgosh yessss!!! Love them!! Great job on the artwork! Thanks so much guys.. ( cracks her knuckles as she heads to the custom creator) lol
7/10/2021 10:15 am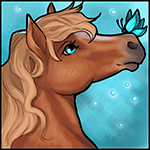 Sky Cat
Gold
Post Count: 17
RP: 32594
Wow, that art is amazing!
"Look back on our struggle for freedom; trace our present day's strength to its source. And you'll find that man's pathway to glory is strewn with the bones of a horse." -Author Unknown
7/10/2021 10:25 am
Kaye
Platinum
Post Count: 174
RP: 327223
Gorgeous as usual, Solo! Also love the rare breed requirements :)
7/10/2021 10:50 am
Shokubeni
Moderator
Post Count: 62
RP: 74905
Aaaah the roached mane! They look amazing! I'm super stoked too to see Waris returning soon, as well as the breeding reqs!
7/11/2021 6:08 pm
Kanna
Platinum
Post Count: 41
RP: 129244
I have a quick question. Say I wanted to crossbreed a Marwari or a Akhal-Teke will there still only be a 5 offspring limit, even though the offspring will be a crossbreed. Also will the same 5 offspring limit apply to grade horse of the two breeds as well?

You must login to reply to this topic. Login here. Don't have an account? Join us.